Sweet Gum, Chinese Sweet Gum
Scientific Name : Liquidambar formosana Hance
Common Name : Sweet Gum, Chinese Sweet Gum
Chinese Name : 楓香, 楓香樹
Family : HAMAMELIDACEAE
Local distribution status : Native species
Anecdotes on plants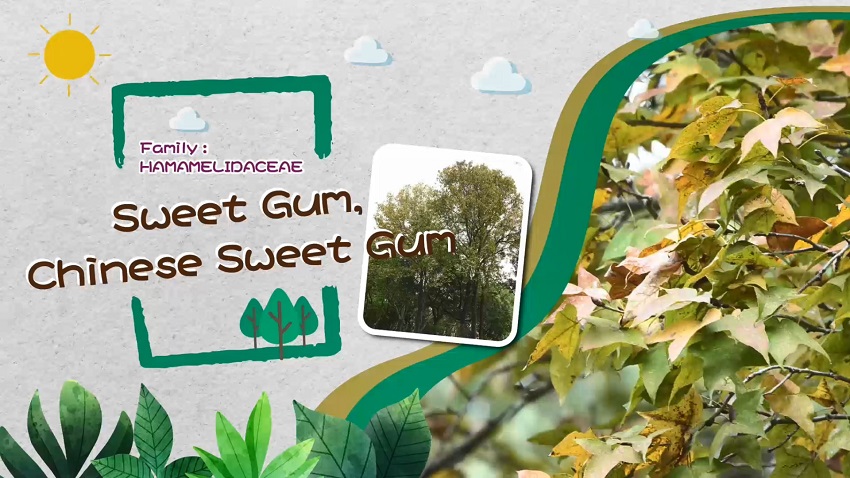 Origins
Central, East, South and West China. Also distributed throughout Laos, Vietnam and South Korea.
Applications
The globose infructescence of Sweet Gum is the renowned Traditional Chinese Medicine "Lulutong". It has a funny appearance, in a size similar to a table tennis and covered with many tiny spines. Once the spines fall off, holes will be exposed on the infructescence. Lulutong can dispel wind, boost blood, promote urination, and free qi channels. The medicine name "LuLutong (Free the Channels)" literally refers to the function of blood boosting and channel freeing. Resin of Sweet Gum can also be applied in Traditional Chinese Medicine, being able to dispel wind and boost blood, relieve toxin and pain, as well as stop bleeding and promote tissue regeneration.
The timber of Sweet Gum is relatively hard and can be processed into furniture and wood boxes.
This is the Sweet Gum species being cultivated in Tai Tong Sweet Gum Woods of Tai Lam Country Park. When the leaves turn red in Autumn each year, the site attract many visitors to appreciate their beauties. The site is one of the most popular options for excursion in Hong Kong. However, this species is different from the Maple Tree, which is the plant classified under the genus Acer of Aceraceae.
Next time when you see Sweet Gum, you can observe and appreciate its palmately 3-lobed leaves and "Lulutong"!
Traits for identification
| | |
| --- | --- |
| Growing habit | Deciduous tree. |
| Height | To 30 m. |
| Trunk | Bark of trunk greyish brown, usually fissured into blocks, or peeled off. Diameter at Breast Height (DBH) of main trunk to 1 m. |
| Leaves | Palmately 3-lobed, base cordate, apex caudate-acuminate, margin serrate, thinly leathery. Central lobe comparatively larger and longer, two lateral lobes spreading. With 3 to 5 palmately veins, prominent on both sides. Green adaxially, turn greyish green when dry, greyish white abaxially when dry. Turn orange red in autumn, then defoliate. |
| Flowers | Unisexual inflorescences, monoecious, perianth absent. |
| Fruits | Infructescence globose, woody, with diameter about 3 to 4 cm, brown when mature. Capsule, with persistent needle-like structure. Seeds many. |
| Flowering period | March to June in Hong Kong. |
| Fruiting period | July to September in Hong Kong. |
Remarks
Scientific name above is based on Hong Kong Herbarium website : https://www.herbarium.gov.hk/en/hk-plant-database/plant-detail/index.html?pType=species&oID=5127
Scientific names from other databases
― Flora of China : Liquidambar formosana Hance
― Plants of the World Online : Liquidambar formosana Hance
Reference
Agriculture, Fisheries and Conservation Department (AFCD). (2018). A Photographic Guide to Common Urban Trees of Hong Kong. 3rd edition. Agriculture, Fisheries and Conservation Department, Hong Kong. ISBN: 978-988-12021-3-0.
eFloras. (2008). Liquidambar formosana Hance. Flora of China. [Online Edition]. Missouri Botanical Garden, St. Louis, MO & Harvard University Herbaria, Cambridge, MA. Retrieved 16th April 2020, from: http://www.efloras.org/florataxon.aspx?flora_id=2&taxon_id=200010557
Hong Kong Herbarium, Agriculture, Fisheries and Conservation Department & South China Botanical Garden, Chinese Academy of Sciences. (2007-2011). Liquidambar formosana Hance. 楓香. Flora of Hong Kong. [Online Edition]. Retrieved 16th April 2020, from: https://www.herbarium.gov.hk/FloraOfHK/Species/5127/5127_S_E.pdf
School of Chinese Medicine, Hong Kong Baptist University & Hong Kong Baptist University Library. (2007). Liquidambar formosana Hance. Medicinal Plant Images Database. Retrieved 2nd May 2020, from: http://libproject.hkbu.edu.hk/was40/detail?lang=en&channelid=1288&searchword=herb_id=D00307
School of Chinese Medicine, Hong Kong Baptist University & Hong Kong Baptist University Library. (2012). 路路通 Lulutong. Chinese Medicinal Material Image Database. Retrieved 2nd May 2020, from: https://libproject.hkbu.edu.hk/was40/detail?channelid=47953&lang=eng&searchword=pid=B00192
School of Chinese Medicine, Hong Kong Baptist University & Hong Kong Baptist University Library. (2012). 楓香脂 Fengxiangzhi. Chinese Medicinal Material Image Database. Retrieved 2nd May 2020, from: http://libproject.hkbu.edu.hk/was40/detail?channelid=47953&lang=eng&searchword=pid=B00363
Shiu-Ying Hu Herbarium. (2020). Liquidambar formosana Hance. 楓香. Pro-Factsheet. Taxonomical Archive System. Wu Jieh Yee Charitable Foundation Native Plant Resources and Database in Hong Kong. Retrieved 16th April 2020, from: https://syhuherbarium.sls.cuhk.edu.hk/collections/factsheet-pro/liquidambar-formosana/
中國科學院仙湖植物園。(2017)。《深圳植物誌》(第1卷)。北京 : 中國林業出版社。國際標準書號 : 978-7-5038-8951-6。
中國科學院植物誌編輯委員會。(1959-2004)。〈楓香樹Liquidambar formosana Hance〉。《中國植物誌》。[網上版本]。於2020年4月16日擷取自 : http://www.iplant.cn/info/Liquidambar%20formosana?t=z
陳虎彪、楊全。(2013)。《中草藥野外識別圖譜》。福建 : 福建科學技術出版社。2016年12月第四次重印。國際標準書號 : 978-7-5335-4323-5。
黎存志、葉彥、葉國樑、魏遠娥、廖家業。(2008)。《香港野外樹木圖鑑》。香港 : 漁農自然護理署。國際標準書號 : 978-988-99377-3-7。